The Antonin Dvorak memorial

(A. Dvorak 1841-1904, Czech composer)
---
Vysoka u Pribrami
Trebsko 262 71
Tel.: 0306 / 918115
Fax.:0306 / 21105
| Opening times: | | Daily (except Monday) |
| --- | --- | --- |
| April - June | 10am - 4pm | |
| July - August | 10am - 5pm | |
| September - October | 10am - 4pm | |
| November - March | 10am - 3pm | (On Saturdays and Sundays only for booked groups) |
---
This manor house, associated with the life and work of Antonin Dvorak, is situated near the village of Vysoka, some sixty kilometers to the southwest of Prague. Today it stands as a cultural memorial and includes the main house, a detached garden house and an extensive park with two lakes. It is only a short walk from the manor house to the lake called Rusalka (water nymph), said to have been an inspiration for one of Dvorak's most famous operas.
Count Vaclav Kounic built the manor house in 1878 in the neo-renaissance style, as a summer retreat. The Czech architect Cenek Gregor designed it. During the last thirty years it has become the Antonin Dvorak Memorial. Extensive renovation and reorganization took place between 1990-1993. In May 1994 it was reopened as the memorial to Dvorak and marked by a new modern exhibition area.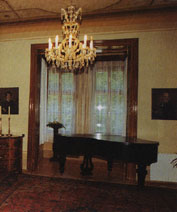 First, this historical property serves to reflect the personality of Count Kounic and his wife Josefina, a leading actress of the Provisional Theatre in Prague. Second, the exhibition itself is devoted to Antonin Dvorak and gives information about his life, work and his stay in Vysoka. He had visited Vysoka for the first time in the autumn of 1877, to attend the marriage of Vaclav Kounic to his sister-in-law, Josefina Cermaková. Later, he was to buy his own small property on the estate.

The restoration combines the original historical building with contemporary architectural vision, to reflect the importance of this country setting as an inspiration for some of Dvorak's finest works. Stage models of the best-known operas, as well as costumes from the opera Rusalka, form the final part of the permanent exhibition. There is also a new concert room on the ground floor, while the basement rooms have been adapted for social and cultural meetings and receptions.
Short music extracts:
Symphony No.7 d-minor (0,7 MB wav)
Slovanishe dances (1MB wav)