Mining muzeum
---
District Museum Pribram
Mining muzeum at Brezove Hory
H. Klicky Place No 293
261 02 Pribram VI
Czech Republic
tel.: +420-306-626307
fax: +420-306-22566

| | | |
| --- | --- | --- |
| Opened: | | |
| April - October | Tu - Su | 9am - 5pm |
| November - March | Tu - Fr | 9am - 4pm |
---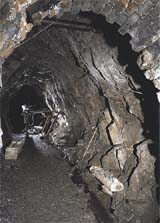 The museum is situated in the area of the Sevcin Shaft, built in 1813 on the site of a 16th century mining pit. Our museum offers a rich history of the Pribram region through its expositions of original mining objects.
In the exposition called "Traditional Crafts and Industry in the Pribram region," visitors can become familiar with the economic, social and cultural development from the Middle Ages up to the 20th century. The exposition "From the History Mining in the Pribram region " is in the next building, the so-called Counting-house, from 1880. It shows local activity from the 10th century up to the present time. Local mining of silver deposits and the extraction of uranium after 1948 are documented here. The museum gathers a number of relics from the history of Pribram mining. Another permanent exhibition called "Development of Vertical Mining Transport in the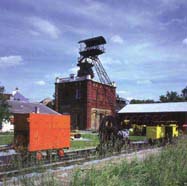 Pribram region " is installed in the Sevcin Shaft. Here visitors can see the orifice shaft with the cage actually used by miners. Because of its historical and architectural value, the Shaft was chosen for the list of technical sites for the UNESCO. The 1928 mining compressor used for domestic production can be seen in the next Machine-Room.
The exposition inside the fourth building attracts many visitors because there are unique mineralogical and geological samples from Pribram silver ore and uranium mines. The Museum recently opened the "Anna " Mine's Machine-Room containing a steam engine (1914) which operated the lift and mechanics of the mine.
Visitors can also see the miner's cottage with an exposition documenting life of a family at Brezove Hory at the turn of this century. There is also an exhibition of local toys and puppets.